Cameroon's Military Spokesperson on Monday rejected claims that found civilian casualties caused by Defense and Security Forces during a raid Sunday, January 10, 2021, in Maumu, a village in Muyuka Subdivision, South West Region.
On Sunday afternoon, videos and pictures went viral on social media depicting corpses of people allegedly "shot dead by government forces" who were in search of armed separatist fighters.
One of the videos shows a woman of advanced age shot in the leg and her grandson, a kid, shot in the palms, destroying his fingers. They could be seen lying on the floor crying for help.
The Centre for Human Rights and Democracy in Africa (CHRDA) reports that State Forces "…invaded Mautu and committed the act."
"CHRDA strongly condemns the heinous killing of at least eight civilians in Maotu Village in Muyuka – Cameroon," said the international NGO headed by Barrister Agbor Nkongho.
"On Sunday 10 January 2021, CHRDA received with dismay, reports about the killing of at least eight civilians in Maotu village. Alleged members of the State Defence and Security forces reportedly invaded Maotu village in the Muyuka Subdivision, Fako Division of the South West region and committed the act," CHRDA said in a dispatch.
"Blind massacre perpetrated in Mautu"
Navy Captain Atonfack Guemo Cyrille Serge, Head of Communication Division, Ministry of Defence, said the military operation in Mautu was "carried out in strict compliance with the rules of engagement".
"The Ministry of Defence hereby informs: at midday on Sunday 10 January 2021, and based on information received from the population, elements of the 21st Motorized Infantry Battalion carried out a preventive raid on the positions of terrorist groups under the orders of the so-called "Spirito" and "Gabonais" in the locality of Mautu, Muyua Sub-division, Fako Division, South West Region," Navy Captain Atonfack said in Monday's press release.
He furthered that: "At the sight of the military vehicles, these armed individuals, surprised in the middle of their gathering, immediately opened fire on the elements of the Defence Forces, who provided an adequate response.
"As a result of the skirmish, some terrorists were neutralized, others who were injured took to their heels, weapons, and munitions recovered.
"Combing operations are still ongoing in the area to find any injured fugitive.
"It is worth underscoring that in the evening of this operation, carried out in strict compliance with the rules of engagement, terrorist leaders, proponents of secession, apparently overwhelmed by the turn of events, conceived in their occult offices, a hotchpotch of gruesome images in a bid to blame our Defence Forces, for a blind massacre perpetrated in Mautu.
"In any case, High Command has prescribed thorough investigation to clarify these obscure machinations and to shed light, if necessary, on the content of the gruesome images in circulation."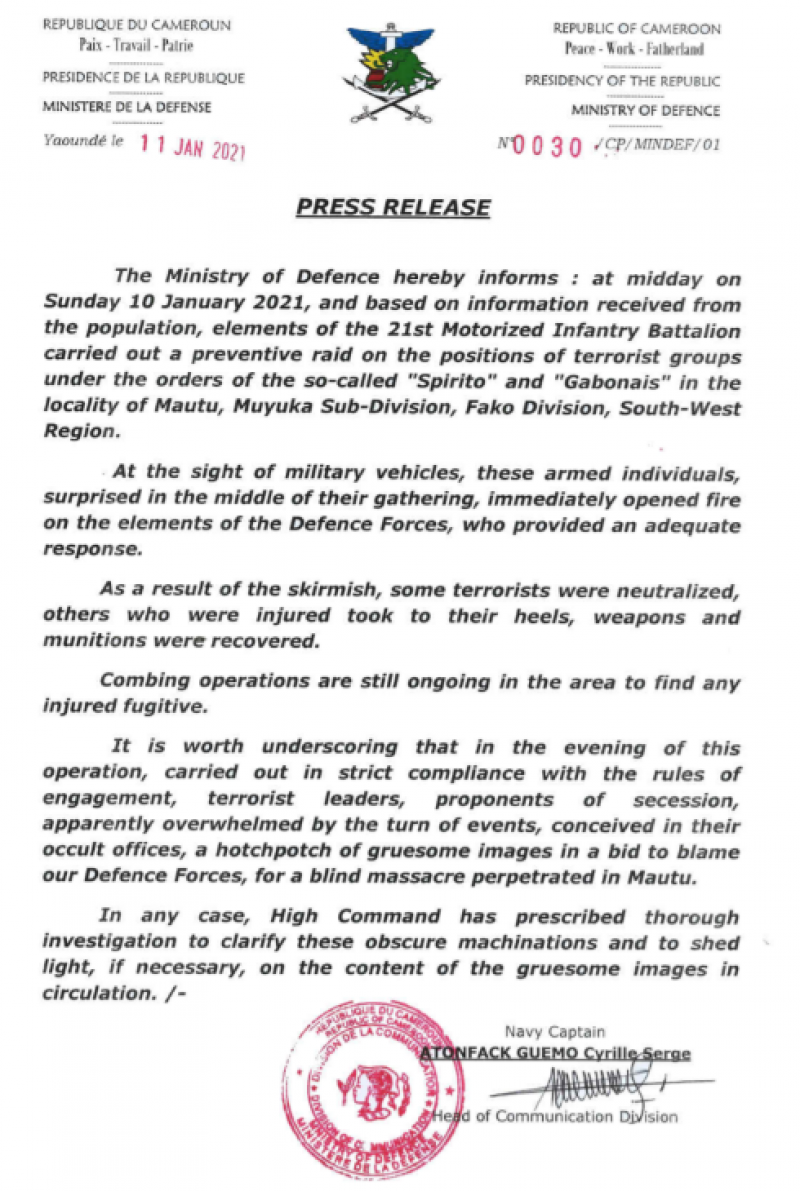 Another Ngarbuh massacre?
The CHRDA says Sunday's attack in Mautu "brings back to the minds of Cameroonians the Ngarbuh and Kumba Massacres, which occurred in 2020".
Human Rights Watch reported that Cameroonian security forces and an armed militia killed 21 people in the Ngarbuh massacre on February 14, 2020, including 13 children and a pregnant woman. It was one of the worst atrocities since the conflict began, the group said.
The government initially denied the reports, denouncing them as "terrorist propaganda" about an "unfortunate accident." But after international pressure, it admitted in April that there had been a massacre and a military cover-up. An inquiry found that the military had tried to suppress the truth by burning homes and filing a false report.
On October 24, 2020, gunmen killed seven schoolchildren in Kumba. Separatists were blamed for the attack.
Following Sunday's incident in Mautu, "CHRDA calls on the state authorities to investigate this heinous act and let justice be served for the victims".
We are sorry that this post was not useful for you!
Let us improve this post!
Tell us how we can improve this post?